Post 16 - Your Future Get it Right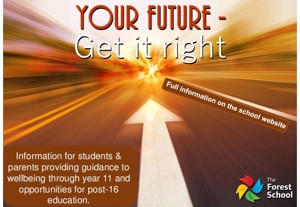 Making decisions as to what to do post-16 is never easy and puts added pressure on your son as he enters his final year with us. The purpose of this guide is to assist you and your son in this decision making process and to help support his well-being. Things have never been more stressful with the current global pandemic adding new dimensions to the process.
Due to the current circumstances we are unable to host our information evening to help make sure that you and your son have the information needed to be able to make an informed decision on his post Forest education. During this term he will need to make his college application(s) and the school will be there to provide him and you with any support and guidance needed.
Please feel free to contact Mr Tomkins, 01403 261086 ext 302 or itomkins@theforestschool.net at any time. If you feel that it would be beneficial to you and your son, we can arrange an appointment to talk things through. It is essential that both you and he feel that you have all the information you need to make the right choice for his future.
Applications for places should be made before the end of the Autumn term and in view of current ongoing circumstances I do urge you to do this. You are very welcome to make more than one college application. The only time I would suggest that you don't do this is if you are 100% sure which establishment you want to attend, and are confident that your grades will support your application – it doesn't matter if you are "just under", if you don't meet the requirements of any offer depend on your results, then that offer will be withdrawn.