Alumni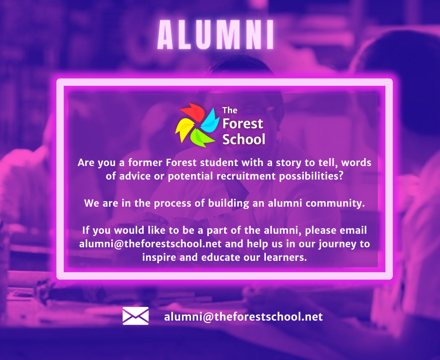 The Forest School is inviting ex students and staff to sign up for its new Alumni, which was launched at the start of 2022. The Alumni is intended to provide support and opportunities for our students and staff, past and present.
We wish to build upon our Forest community and extend it beyond the student's active years.
Members of the Alumni can express an interest in receiving relevant news/updates/success stories, invitations to networking/social events and opportunities to come back to school to engage and inspire current students.
For further information please email our Alumni Co-ordinator alumni@theforestschool.net or alternatively Register here
We will only use your information to contact you regarding the Alumni. You can request to be removed from the Alumni at any time by emailing alumni@theforestschool.net