Parents
Parents Partnership
The Parent Partnership was established in 2007 and meets once every half-term to discuss important issues for both parents and the school.
It has been very successful in contributing positively to the development of our School Community. The Partnership has a dual purpose:
Provides a stakeholder panel for views on new initiatives and developments within the school
Provides parents a voice in the development of the school
We are delighted that we are still able to offer our Parent Partnership meetings through the use of Teach Stream. All parents are welcome to attend using the joining instructions sent prior to the evening.
The dates for this academic year are:
Thursday 12 May 2022
Thursday 30 June 2022
Although it is most likely that all meetings will take place on the scheduled dates, the date of a meeting may have to be changed nearer the time due to unforeseen circumstances.
For further information please contact Mrs L Kirkland, Assistant Headteacher, 01403 261086 or via email on office@theforestschool.net
Uniform
We are proud of the high standard of uniform in the school and we expect all students to maintain this high standard and wear the full correct uniform at all times. This includes travelling to and from school, in school and when representing the school away from the premises.
Blazer:

Compulsory for students in Year 7-9

Black with embroidered, house specific, school logo.

Shirt / blouse:

Plain, white, school style.

If wearing a shirt, a school tie must be worn.

Tie:

Students in Year 7-9

Black with embroidered, house specific, school logo. This must be worn in the conventional style and length with the top shirt button done up.

For students in Year 10 and 11, the old-style striped tie may still be worn.

Skirt:

Pleated, black, knee length skirt with embroidered, house

specific, school logo.

No other school styled skirt can be worn.

School Jumper:

Black with embroidered, house specific, school logo.

No hoodies or other sweatshirts and these will be confiscated if worn.

Trousers:

Plain, black, tailored school trousers.

Students must not wear PE shorts or tracksuit trousers under their school trousers. It any student is found to be 'double-layered' they will be asked to remove the underlayer.

Shorts:

Tailored Black Shorts. Plain black with pockets and belt loops.

May only be worn in the summer term and until October.

Socks / tights:

Natural or black tights or black socks.

Footwear:

Plain black leather / patent school shoes only. No boots, canvas shoes, high heels, sling-backs, stilettos or trainers are allowed.

See additional information below.

Coat:

Waterproof without any 'obtrusive' or large logos.

Hairstyles:

Hair must be of natural colour. Hair and facial hair must be smart and presentable. Hair should not have extreme differences in lengths and steps, tramlines and patterns are not permitted. Longer hair must be presentable and tied back for PE and practical lessons. Headscarves, if worn, must be black.

Jewellery:

Students are allowed to wear a small round stud earring in each ear (one per ear). These must be removed for PE lessons. No other piercings are acceptable and the use of plasters to cover piercings is not allowed at any time.

Rings, bracelets and necklaces may not be worn.

Make Up and

nail varnish:

False nails and nail varnish are not permitted.
Acceptable school shoes
As a school we want to have a very simple and cost-effective uniform and so to help with this we insist that students wear simple black school shoes with no visible logos. The popular choice of black trainer (Nike Air Force One) is not acceptable footwear. All students are expected to wear sensible footwear on the school premises. These should be black leather lace- up or slip on shoes. We will not accept suede shoes, trainers, trainer style shoes, canvas shoes or boots (this includes 'Kickers' style boots or similar). No shoes with visible sports logos are acceptable and they must be able to be polished.
Examples are given below: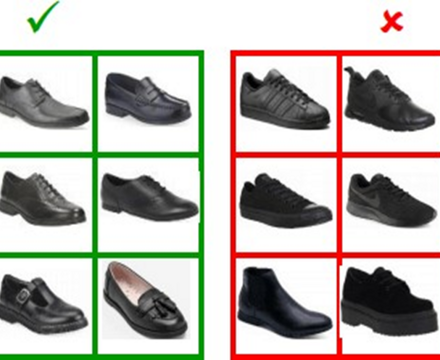 High standards of behaviour, attitudes to learning and high aspiration are achieved by having a high standard in all we do, even something as seemingly unimportant as shoes. If you have any questions, or feel you need support in choosing an appropriate shoe for your child, please do not hesitate to contact their Head of House in the first instance.
P.E. Kit
Top:

Official T-shirt: Black with relevant house colour Official Training Top: Black with relevant house colour.

Bottoms:

Students in Year 7-9

Shorts: Black with house colour and embroidered, specific school logo.

Skort: Black with house colour and embroidered, house specific school logo.

Leggings: Plain Black. For dance and gymnastics.

For students in Year 10 and 11 plain black shorts (with no brand marking) can be worn.

Socks:

Short white sports socks and long black football socks

Shoes:

Non marking trainers and a pair of football boots (any design/colour).

Additional items:

Shin pads, gum shield, sports bra, hair tie.
Uniform is available to order at Taylor Made Uniforms LTD
Leading Parent Partnership Award
Raising Achievement by involving parents in the work of our school.
In 2013 we successfully achieved the Leading Parent Partnership Award in recognition of the excellent partnership with have with our parents
Involving parents in their child's education is an exciting challenge, with excellent benefits for the child, the parents, the school and the local community.
Amazingly research identifies at age 7, a parent's influence on a child's learning is six times that of their school and even at 11 years old, it is 29% greater. Increased involvement can raise achievement by at least 18%.
We used the Leading Parent Partnership Award (LPPA) to help strengthen our school's partnership with parents. It is a Department of Education endorsed award, which provides us with a valuable school improvement tool and also gives us national recognition for our commitment to working with parents.
The LPPA helps us to achieve these long term benefits:
Contribute to improved pupil attendance, punctuality, behaviour and progress.
Increase parent participation and involvement.
Enhance parents' support in their children's learning.
Improved home school communications.
School Meals
Catering Service
We operate the cashless system in our school canteen enabling us to deliver a fast, safe and efficient service for pupils and parents. Pupils are registered on the system and use an image of their finger (biometric information) to make payment for their purchases.
School Menu
To see the current menu which works on a 3 week cycle.
Please note this new menu offers a wider choice of dishes but not all dishes will be produced each day. (Nut Allergies - nuts will not be served at the school in canteen meals).
Free School Meals
Free school meals are available at The Forest School. Families are eligible if they are in receipt of Income Support, Income-based Jobseekers Allowance, Pension Credit or Child Tax Credit only with an assessed income below £16,190. If you would like to apply for free school meals please complete the Application Form in CAPITAL LETTERS and return it to the address on the form.
Further information can also be found on the West Sussex website
Government Schools Allergens Documents
School Day
We expect all pupils to arrive punctually to school, and anyone not in lessons by 08:30 will be deemed to be late.
08:20: Staff on Duty. Pupils arrive on premises
08:30: Tutor Time Registration
08.35: Ready To Learn
09:00: Period 1
10:00: Period 2
11:00: Morning Break
11:30: Period 3
12:30: Period 4
13:30: Lunch Break. All students remain on premises
14:00: Period 5
15:00: End of formal day. Buses depart. Enrichment activities / Independent Learning Club
16:00: Late buses depart
Transport
Assistance with transport to school
Normally it is the responsibility of parents to get their children to and from school safely. Free transport or help with travelling costs may be offered according to which school or college the pupil attend and the distance involved. Click here to get guidance about help that is available.
Attendance and Absence Requests
Attendance
Central to raising standards in education and ensuring all pupils can fulfil their potential is an assumption so widely understood that it is insufficiently stated- pupils need to attend school regularly to benefit from their education. Missing out on lessons leaves children vulnerable to falling behind. Children with poor attendance tend to achieve less in both primary and secondary school. The government expects schools and local authorities to:
Promote good attendance and reduce absence, including persistent absence:
Ensure every pupil has access to full-time education to which they are entitled:
Act early to address patterns of absence.
Parents to perform their legal duty by ensuring their children of compulsory school age who are registered at school attend regularly. All pupils to be punctual to their lessons.
Taken from "School Attendance" Department for Education July 2019
The Forest School ethos is to support our students and their families who have concerns regarding attendance. Please contact your child's Community Leader if you would like our support.
Is my child too ill for school?
BROMCOM
We use our current school system called Bromcom to operate our cashless system. Bromcom has an app called MCAS (My Child at School) which you will need to download to your mobile phone. The app offers you the freedom to make payments online using a credit or debit card wherever and whenever you like, safe in the knowledge that the technology used is of the highest security available.
Every parent is given a secure account through the App (MCAS) that is protected with a unique user ID and password.
Leavers Balances
Leavers balances above £5 will be refunded or transferred to siblings at parents request. Please contact the Finance office for more details or if you have any queries.
School Trips and other items
Parents can also use MCAS to make payments for school trips, books, equipment and various other items.
Trips
Letters and Forms
Homework
Sparx Maths
Hegarty Maths
At present we use Hegarty Maths as our online portal for maths at Forest.
Hegarty though is changing and we are changing with them. Hegarty will become Sparx Maths.
Sparx is an improvement on Hegarty and between the two companies they have developed an exciting and fully repurposed online maths portal – which has been designed to be specific to each individual pupil.
Sparx and Hegarty have developed software that allows questions to be set at the level that suits your child, NOT just a level that suits the class in general
Sparx understand the importance that Parents play in their children's education, and want to include you.
To this end, they have set up their systems so that each week, you will get an email summarising what work has been set and how well your child has done. The email will look like this:
An explanatory video is available on the school website in the Latest Information area.
A link to the video is attached to this communication
Because of the importance of GDPR regulations, we need to know if you are NOT willing for Forest School to pass your email details onto Sparx.
Sparx will ONLY use your email to send a weekly update email. They cannot and will not pass your emails onto any other organisation.
If you DO NOT want to receive a weekly email showing your child's progress in maths, please can you let the office know.
Regards
Forest Maths Department